Spring Break is here! Now is the perfect time to spend some time in paradise with the Original Adventure Kayak Outfitters. And Lido Key, just off of Siesta Key is truly paradise, so gather your friends, and get together for a day of fun on the water!

We offer both kayak rentals and eco kayak tours, so whether you want to venture off on your own, or have a guided tour, the choice is yours. We even deliver to you free! With either one, you only need to book in advance. And when you do, if you're booking a tour, you save $5.00 when booking online! Plus, we NEVER charge booking fees, so it's a win-win!
Kayaking is a great way to get away from the beach and check out one of our area's hidden gems, the exotic mangrove tunnels. While kayaking the mangrove tunnels, you will see different types of mangroves, learn about their contribution to our unique ecosystem, and how they help to preserve the mainland. The mangroves provide a shady retreat during the leisurely little trip through them. The water is so clear you will see fish swimming beneath you, there will be tons of fiddler crabs climbing the mangroves, and perhaps you'll even see a sea star or two.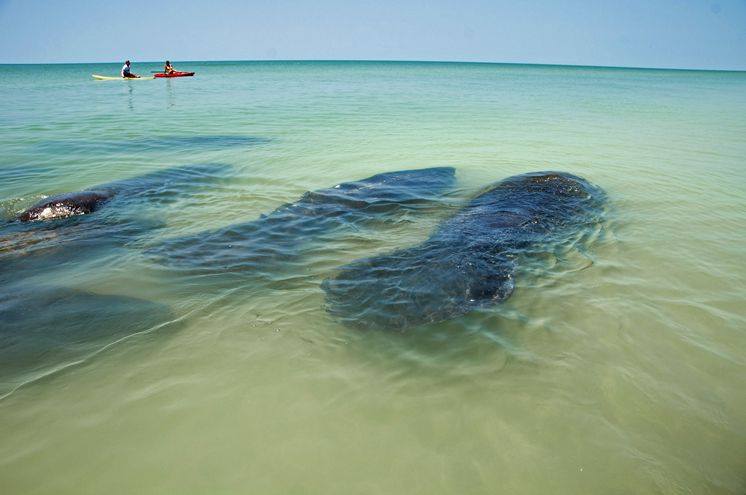 Once you exit the mangroves, you have the chance to encounter so much more ocean life. On your kayak tour you could encounter dolphins playing in the bay. They are always a joy to see! We could also see some manatee's lounging around. There are usually plenty of snook and mullet jumping about. Native birds are pretty abundant, they love fishing in the Sarasota Bay. We typically see pelicans, egrets, osprey, and even bald eagles. Of course we can't guarantee that you will see each of these, but our expert guides will point them out for you along the way!