Are you looking for fun things to do in Sarasota during the Fourth of July weekend? Sarasota is the place to be, there's plenty of fun filled events, including fireworks, and boat races!
Sarasota Grand Prix Events
Thursday – June 29
Celebrate the Grand Prix with their Festival Kickoff Party. The party takes place from 6-10pm at Michael's on the Bay at Selby Gardens.
Friday – June 30
Powerboats will be on display throughout downtown Sarasota in the "BOATS ON MAIN" Downtown Block Party. Visitors have the chance to meet the race teams; there will also be food, drinks, and music!
Saturday – July 1
The Grand Prix Fan Fest will take place in the Van Wezel Parking Lot. There you can see the teams preparing for the race, and watch the race live from underneath a tent. There will be food, music, a full bar and many vendors. And the Miss Powerboat P1 Swimsuit Contest begins at 1pm.
Qualifying Races run from 9:30am – 3:30pm at Lido Beach.
Sunday – July 2
Sunday features another Grand Prix Fan Fest, this one is at Centennial Park and includes food, music, a full bar and many vendors as well as the ability to view the races from underneath a tent.
Powerboat races run from 9:15am- 4:00pm with the best viewing on Lido Beach.
The full schedule of events can be found here.
Fireworks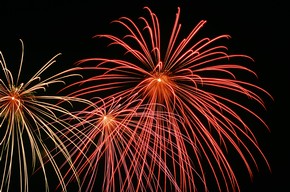 Tuesday – July 4
The Bayfront Fireworks Spectacular begin around 9pm; this marks the end of the Sarasota Grand Prix Festival. Fireworks can be viewed from anywhere downtown.
The 27th Annual 4th of July Fireworks on Siesta Key begin around 9:15pm. They are launched from the north near the volleyball courts, so viewing is best south of the Public Beach, and on Crescent Beach. Of course either of the Sarasota fireworks displays can be viewed from the Gulf, or the Intracoastal Waterway. Keep in mind that these are popular events, so plan ahead for crowds.
You can always ditch the fireworks and fanfare and spend time with family, at a cookout, on America's Best Beach, or better yet, hop on a kayak and spend a beautiful day on the water! You won't be disappointed.
We wish you all a safe, and fun filled Independence Day!