Kayaking Lido Key is a beautiful experience, it's fun, it's adventurous and so exciting! With all the beauty and wildlife around there's so much to enjoy, and we can't forget to mention the scenery! Florida boasts some of the most beautiful scenery around, there's a Kodak moment waiting for you around every corner! You can experience all of this when you kayak the beautiful barrier island of Lido Key.
There's no better place to come relax, soak up the sun, take in the gorgeous views, and see some amazing marine animals than on the west coast of Florida in the Sarasota area. Lido Key is located just minutes from Siesta Key, often named the number one beach in the country!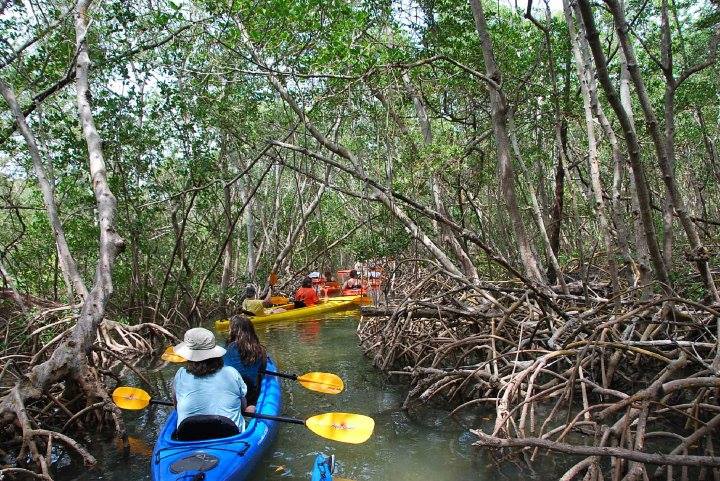 When you have a kayak tour on the beautiful Lido Key, you're kayaking in one of the most beautiful mangrove landscapes in all of Florida. While you kayak through these exotic mangrove tunnels, you're kayaking through a natural waterway and estuary of Sarasota. This tour is a perfect choice for families because of its shallow and calm water. The mangrove tunnels offer an escape from the hot sun during the summer months and allow you to enter a whole new world almost. Here you get up close and personal with these tropical beauties.
The mangroves are protected themselves, and are so important as they:
Provide a nursery to young fish
Serve as a coastal barrier during coastal storms and hurricanes
Provide nutrients to the marine ecosystem
Provide shelter to the marine life that live in them
Once you exit the mangroves and are in the shallow waters of Sarasota Bay, you can see marine life such as dolphins, manatees, sea turtles, and different types of fish, sea stars, sea cucumbers, and many different types of marine birds. This is an exciting opportunity for the whole family! Schedule your adventure with Adventure Kayak Outfitters today!