A little fresh air never hurt anyone, right? Plus, spending time outside, with friends or loved ones is good for you. So whether you're here on spring break, live here, or are visiting for the season, it's a great time to break away from the news and get outside on a kayak tour with Adventure Kayak Outfitters! We're located just minutes away from the best beach in the country, Siesta Key Beach.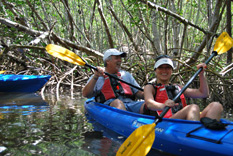 Our tours are for everyone, you don't need any previous experience to enjoy our kayak tours. We begin each tour with a brief instruction from our experienced native Floridian guides. Our guides are trained to provide you with clear and helpful instruction in just a few minutes! Each guest is provided with a coast guard approved life vest and you'll be on your way. We want kayaking to be fun and adventurous for you, as well as a learning experience about our beautiful little slice of paradise that is Sarasota.
This is the most popular kayak tour in Sarasota for a reason. Our mangrove tunnels are protected from the wind and sun, and the channels where we kayak are shallow manatee zones, which not only make it safe for us, but also for manatees. This is why we typically see not only manatees on our tours, but dolphins as well. These shallow flats are full of sea life.
This kayak tour is perfect for all ages from young to old, making it the perfect family outing. So it's time to get out and get some fresh air, away from all the crowds, and enjoy all that nature has to offer. Our kayak tours bring you up close and personal to some of nature's most beautiful creatures! To book your kayak tour with Adventure Kayak Outfitters, the original kayak outfitter, visit us online.