Kayaking is an excellent way to explore Sarasota and Lido Key. There's so much more to Sarasota than Siesta Key and beautiful beaches! Let's explore what to expect on your kayak adventure.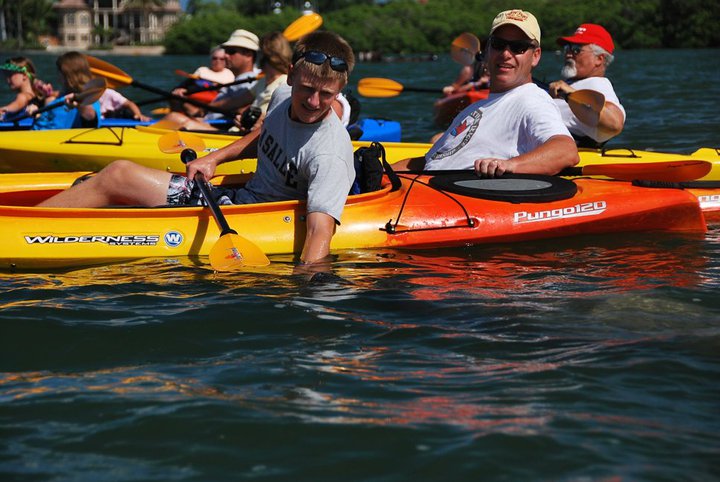 A kayak tour is the perfect way to make your Sarasota vacation more memorable. What better way to connect with family and loved ones than with a kayak trip on the water exploring the beautiful estuary of Lido Key? Our experienced guides get you up close and personal with dolphins, manatees, local exotic birds as well as other native wildlife. These are memories that will be cherished for a lifetime!
Kayaking can be just as exciting as it is relaxing. Of course it's exciting when you come across a manatee or a dolphin. Our experienced guides will teach you all you need to know about safety and paddling. You'll also be equipped with safe kayaks as well as clean and comfortable life vests.
Yes, just about anyone can kayak, but there are different types of strokes that make kayaking easier, especially when we go explore the exotic mangrove tunnels in Lido Key. There is the forward stroke which is most commonly used. On occasion you will need to use a kayak reverse stroke, especially if you want to go back and get a better look at something or to slow down. There is a sweep stroke, should you want to spin around.  There is also something called the kayak draw stroke, this is mostly used when you want to go sideways, or pull up alongside something like a mangrove tunnel to let someone pass, or perhaps slide next to a buddy to snap a photo!
If you want to try something new and exciting, and see a side of Sarasota you can't typically see, schedule a tour with Adventure Kayak Outfitters, the original kayak outfitter, you won't be disappointed!